Transcribe recordings without wasting time!
Discover how Qwaz Audio can slow audio recordings while keeping voice pitch
Features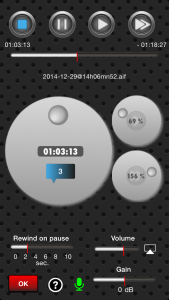 • Compatible with internal or external microphone.
• Adjustable Gain monitoring, for low quality recordings
• Real time battery duration monitoring while recording
• Two adjustable playing speeds for low rate transcription to prevent pauses and fast listening. They range from 40% to 200% of the original speed.
• Voice control of audio player
• Automatic pitch correction using Qwaz™ signal processing, to preserve listening quality at any speed.
• Automatic rewind on pause feature, with adjustable delay
• Fast and precise navigation for any audio recording length, using a simulated tactile feedback button
• Insertion of audio markers, to remember valuable audio fragments.
• Audio recordings imports and exports via iTunes™ or iCloud Drive™ (other clouds available through free third-party app, as Owncloud™, Dropbox™…)
• Version 1.41. Available in english and french

iTunes, iPhone and iCloud Drive are registered trademarks by Apple.Mic is a registered trademark by Apogee. Twitter is a registered trademark by Twitter.
Qwaz is a registered trademark by Denis Delbecq.