A unique tool to record, transcribe and write
Discover how Qwaz Pro can slow audio recordings while keeping voice pitch
An intelligent audio recorder and player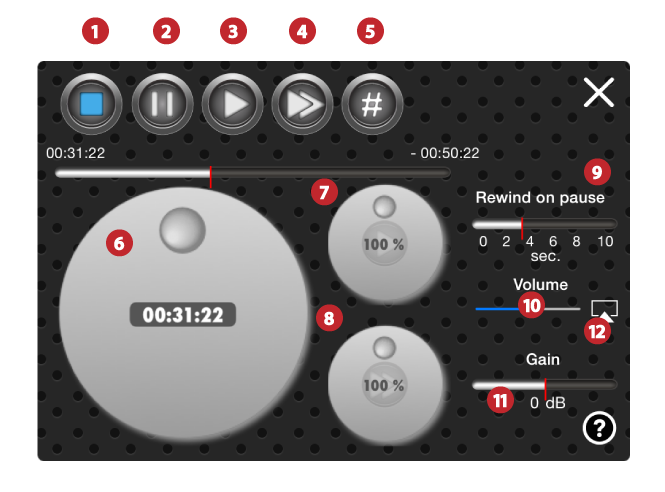 • Compatible with internal or external microphone.
• Two adjustable playing speeds for low rate transcription to prevent pauses and fast listening. They range from 40% to 200% of the original speed.
• Automatic pitch correction using Qwaz™ signal processing, to preserve listening quality at any speed.
• Automatic rewind on pause feature, with adjustable delay
• Fast and precise navigation for any audio recording length, using a simulated tactile feedback button
• Insertion of interactive audio markers in texts, to navigate between text and the audio file.
• Audio recordings importation and exportation via iTunes™ or iCloud Drive™ (compatible with other could services such as Dropbox™ or OwnCloud™ using third-party free app).
Writing features
• Rich text editor with fonts, styles, colors, typographic alignment and links.
• Real time character counter with maximum length setting and alert
• Automatic currency conversions, with daily rates from European Central Bank
• Statistical analysis of content for detection of word duplication and mispelling, and for document coherence analysis
• Abbreviation manager
• "Writing tic" detection, from user-defined library, for better writings
• Number-to-text conversion
• Spellchecker with similar word correction, document-attached ignored-word dictionary and integration with iPad™ dictionary.
Communication features
• Document emailing with automatically generated rich text (RTF) or PDF attachments
• RTF and Word™ import from iPad™'s email application, import/export from any computer with iTunes™ or from iCloud Drive™, Dropbox™, Owncloud™ and other cloud file servers (free third-party required)
• Wifi printing on AirPrint™ compatible printers, with header and footer settings and print preview
• Content conversion into HTML to import rich text in blogs and content management systems, including links.
• Version 1.21 available in french and english

iTunes, iPhone, iPad, iCloud Drive and AirPrint are registered trademarks by Apple.
Mic is a registered trademark by Apogee.
Word is a registered trademark by Microsoft.
Qwaz is a registered trademark by Denis Delbecq.